Vapor Intrusion Mitigation
Vapor Intrusion Mitigation
Protect Indoor Air Quality from Harmful Chemical Vapors
Vapor intrusion mitigation protects a structure from vapors produced by subsurface chemical contamination in the ground below.
It shields your occupants' health.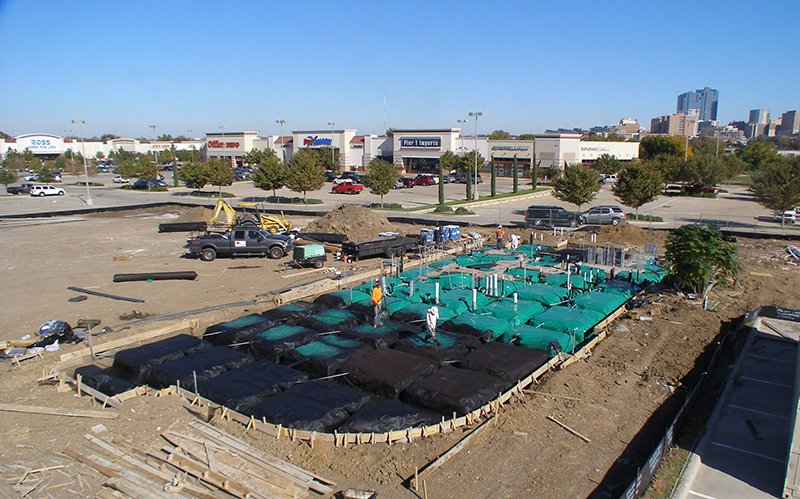 Vapor intrusion occurs when chemicals in soil or groundwater migrate out of the ground to contaminate indoor air in a structure above. These vapors may include:
Volatile organic compounds (VOCs)

Semi-volatile organic compounds

Inorganics, such as mercury or hydrogen sulfide

Methane

Radon
Typically, vapors enter a structure by way of its foundation, through cracks from settling, gaps around plumbing and utility lines, or even through the pores of the concrete itself.
What's the danger of vapor Intrusion?
Vapor intrusion poses a risk for anyone breathing the contaminated air. Health risks can be immediate or long term depending on the chemicals, the vapor concentration, the amount of ventilation, and how much time people are exposed. In rare cases, vapor buildup from chemicals such as gasoline can create a risk of explosion.
Because of these dangers, vapor intrusion is a significant environmental issue that has become a matter of concern for regulators as well as real estate developers, insurance carriers, building owners, and structure occupants and residents.
How to mitigate vapor Intrusion
CETCO offers a suite of sub-slab vapor intrusion barrier systems comprised of membranes, geomembranes, geotextile reinforcing, protection layers, drainage, and venting components.
Mem

branes
Geomembranes
Geotextile reinforcing
Protection layers
Drainage components
Venting components

LIQUID BOOT Plus

LIQUID BOOT LT

LIQUID BOOT 500

VI-20
BASEFABRIC T-40 and T-60

ULTRASHIELD G-800 and G-1000

ULTRADRAIN 6200

GEOVENT
Elements of premier vapor intrusion barrier systems
With over 50 million square feet of successful installations, CETCO vapor intrusion barrier systems are proven protection from dangerous subsurface chemical vapors for hospitals, schools, libraries, high-rise commercial and residential buildings, multi-family housing developments, and major public works projects worldwide.
Critical elements for successful and long-lasting vapor intrusion mitigation include:
Unique formulation for reliable protection from methane, VOCs, and water vapor
Fully-adhered system to reduce the risk of uncontrolled gas migration
Monolithic composition to eliminate potential for seam failures
Spray application - for numerous advantages over thin-mil and sheet systems, including:

Tough and flexible barrier, even at low temperatures

Effective penetration sealing

No mechanical fastening

Installation in a range of climates

Lower diffusion properties

Superior tensile elongation and bond strengths

Economical installation

Long-term, dependable performance
CETCO is the leader and pioneer in cutting-edge environmental products and solutions. Around the globe, our innovative teams of clay mineralogists, chemists, and polymer scientists transform ordinary minerals into extraordinary technology to solve day-to-day problems worldwide.