Featured Case Studies: Waste Containment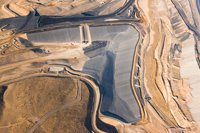 BARRICK GOLDSTRIKE MINE
Elko, Nevada
The Barrick Goldstrike tailings bottom liner system consisted of an 80 mil HDPE textured geomembrane overlaying BENTOMAT DN GCL. The GCL was used as a replacement for the 1 ft of 1 x 10-6 cm/sec permability compacted clay liner.
FORT MCMURRAY OIL SANDS
Northeastern Alberta, Canada
The Suncor Pond 1 is an oil sands tailings pond located near Fort McMurray, Alberta, Canada. This region experiences an average winter temperature of -19 °C, with a record low temperature of -50 °C. Full-scale closure and reclamation activities had been underway at the site since 2007. In late 2009, infilling of the pond had been completed.
FRESH KILLS LANDFILL
Staten Island, New York
Fresh Kills landfill is one of the largest landfills in the world, comprising a total of 2,200 acres. The construction of the cap was to be completed over five construction seasons from 2006-2010.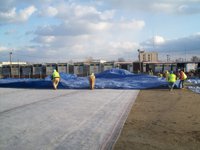 PLANK ROAD LANDFILL
Patterson, New Jersey
Jersey Brownfield was formerly the site of a chemical recycling facility with soil at the site was heavily contaminated.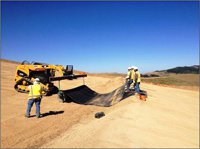 RASMUSSEN RIDGE PHOSPHATE MINE
Soda Springs, Idaho
The Rasmussen Ridge Phosphate Mine Tailing Storage Facility was implemented as part of the on-going Supplemental Reclamation Action as a demonstration project. The cap and cover system was designed to effectively eliminate surface water infiltration and potential runoff of trace concentrations of selenium contained in the waste rock.