GREENSCAPES® Green Roof Solutions
Your Fully Custom Green Roof Solution Provider
Unique plants, unique waterproofing systems, GREENSCAPES® is the green roof that is fully customized to all your requirements.
It's exactly what you want.

Modern green roof technology plus proven waterproofing
Combining decades of waterproofing success with the latest in green roofs, GREENSCAPES® is the custom solution for your unique green roof design. With job-specific growing media and a comprehensive range of accessories, we work with you to design and develop the perfect green roof for your specific aesthetic, functional, and structural requirements.
GREENSCAPES® green roofs are low maintenance with no irrigation required in most climates. Featuring deeper growing media for a wider variety of plants, GREENSCAPES® can even integrate pavers, benches, and water features to appear more like traditional roof gardens.
Replacing rigid, impermeable structural surfaces with plant life, green roofs are an emergent solution that provides significant benefits not only to the environment but to the people living in the green roof structure.
Everything from plants to waterproofing - all from one single source
For easy management of the project, all key elements of a GREENSCAPES® green roof can be planned and obtained through CETCO. We provide a full range of components for your custom green roof solution:
WATERPROOFING MEMBRANE
Because a green roof remains moist nearly always, only a CETCO high-quality, watertight membrane should be used.
COREFLEX® 60 Waterproofing Membrane
Whether under continuous or intermittent hydrostatic pressure, COREFLEX is your most reliable barrier against water. Combining two kinds of barriers—passive and active—COREFLEX substantially reduces the possibility for leaks. With its traditional passive barrier blocking water while the active volcanic bentonite component of its core absorbs up to 15x its volume in water, it expands to seal cracks using the very pressure of the water itself to fill and block any gaps. Featuring a thermoplastic membrane with welded seams that provide a watertight barrier layer, COREFLEX is reinforced with an inserted knit polyester fabric integrally bonded to an Active Polymer Core (APC). The fabric is produced with DuPont's Elvaloy-KEE (Keytone Ethylene Ester), a solid phase high molecular weight ethylene interpolymer that not only provides superior chemical resistance but also maintains membrane properties for long-term performance without experiencing phase separation.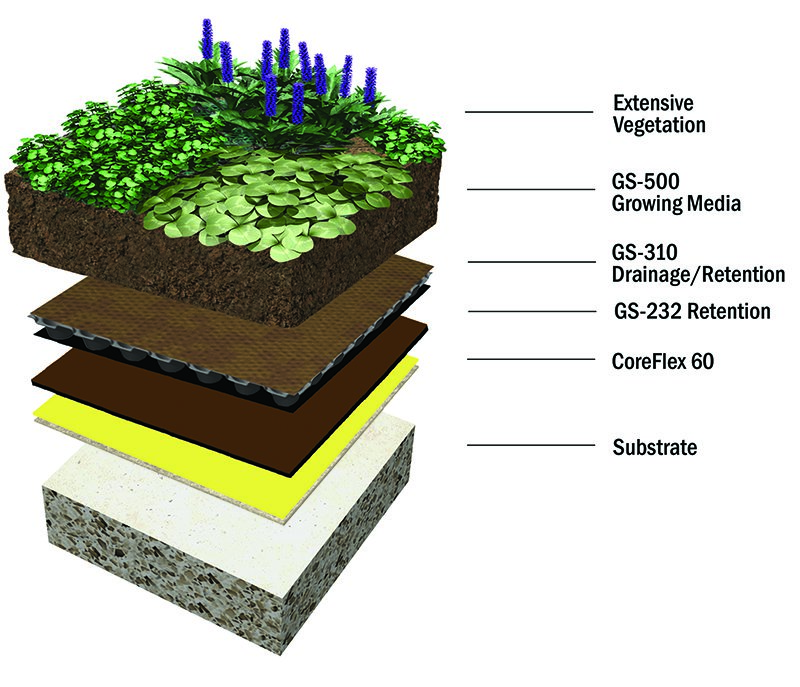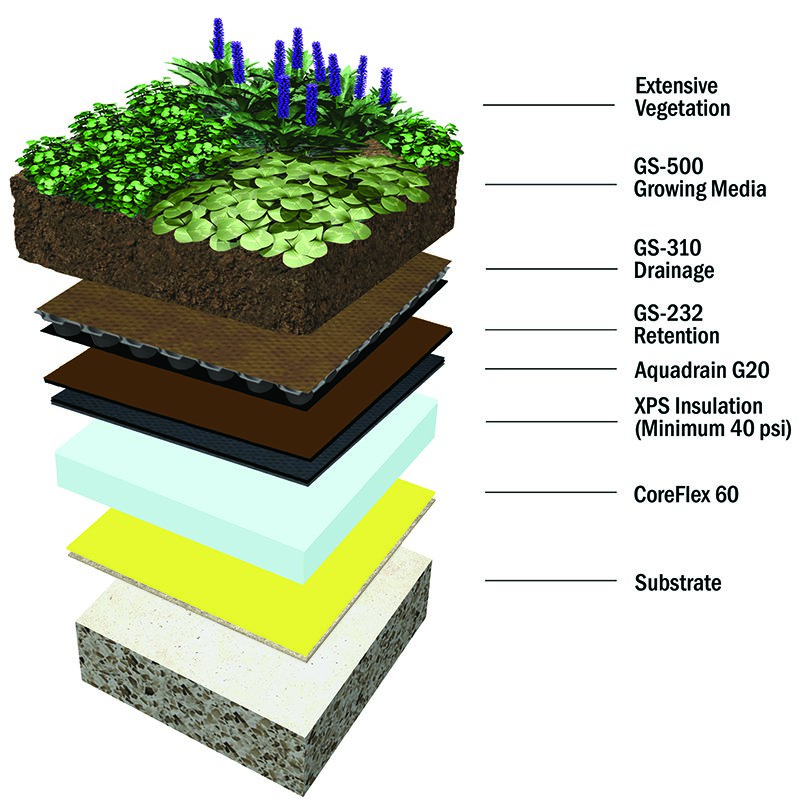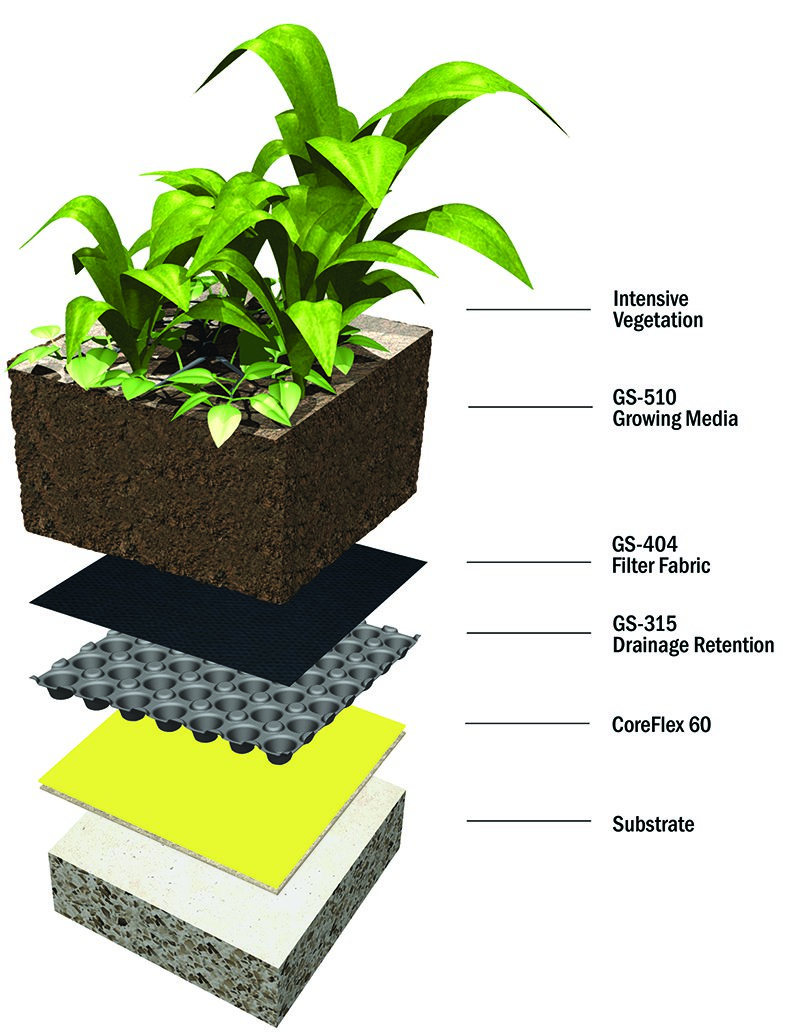 STRATASEAL HR Waterproofing Membrane
A single component, 100% solid, hot-applied rubberized asphalt membrane. STRATASEAL HR is formed by applying reinforcing fabric over a base layer of rubberized asphalt and then applying a second layer of rubberized asphalt over the reinforcing fabric. Flexible and self-sealing, its exceptional adhesion limits lateral water migration to any damaged area. Eliminating the additional work as well as inaccuracy of mixing or curing with two-component products, once applied, STRATASEAL HR maintains a tenacious bond for the life of the structure.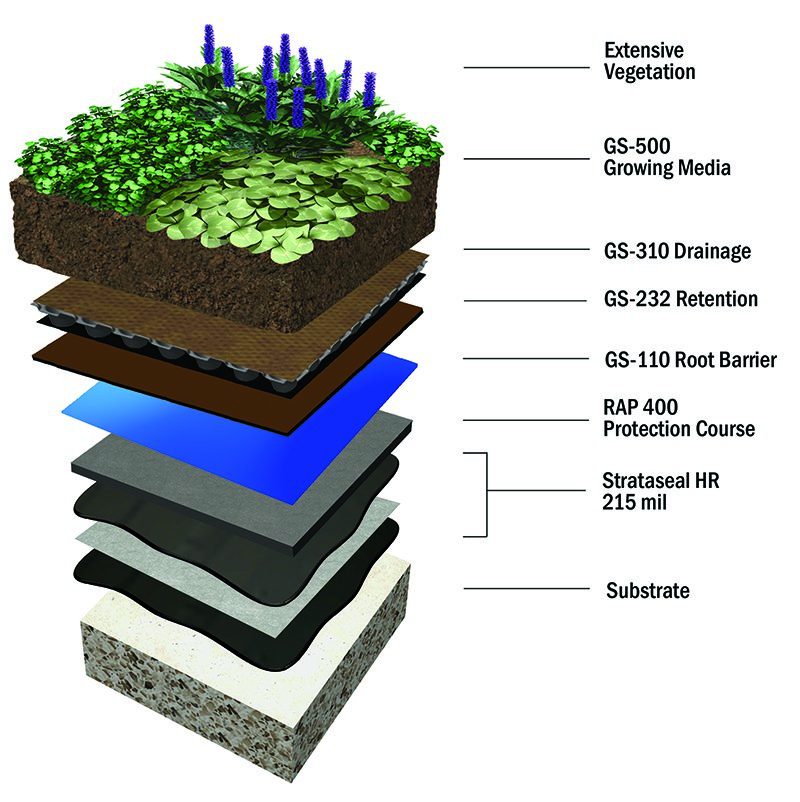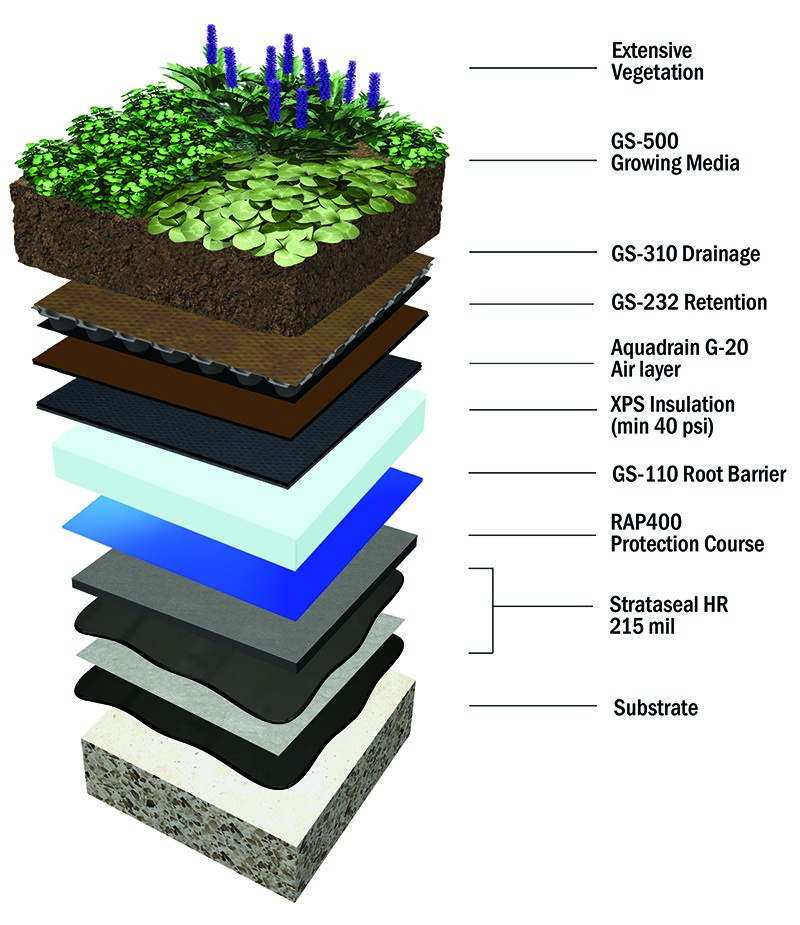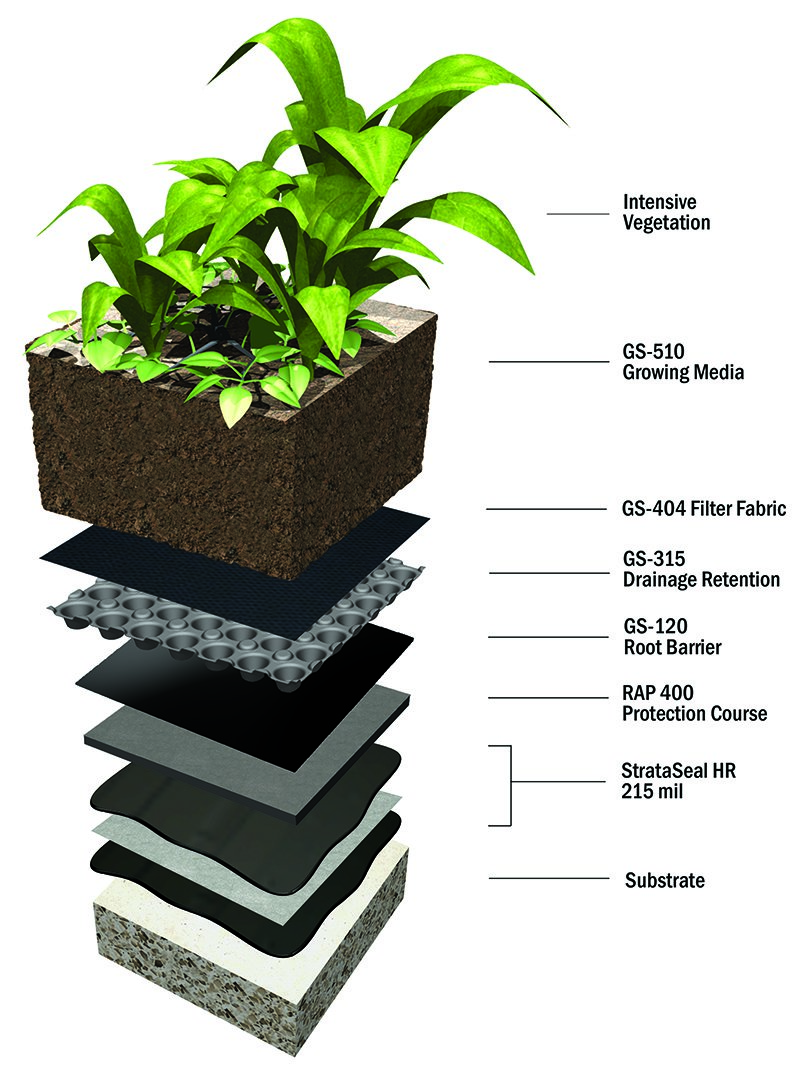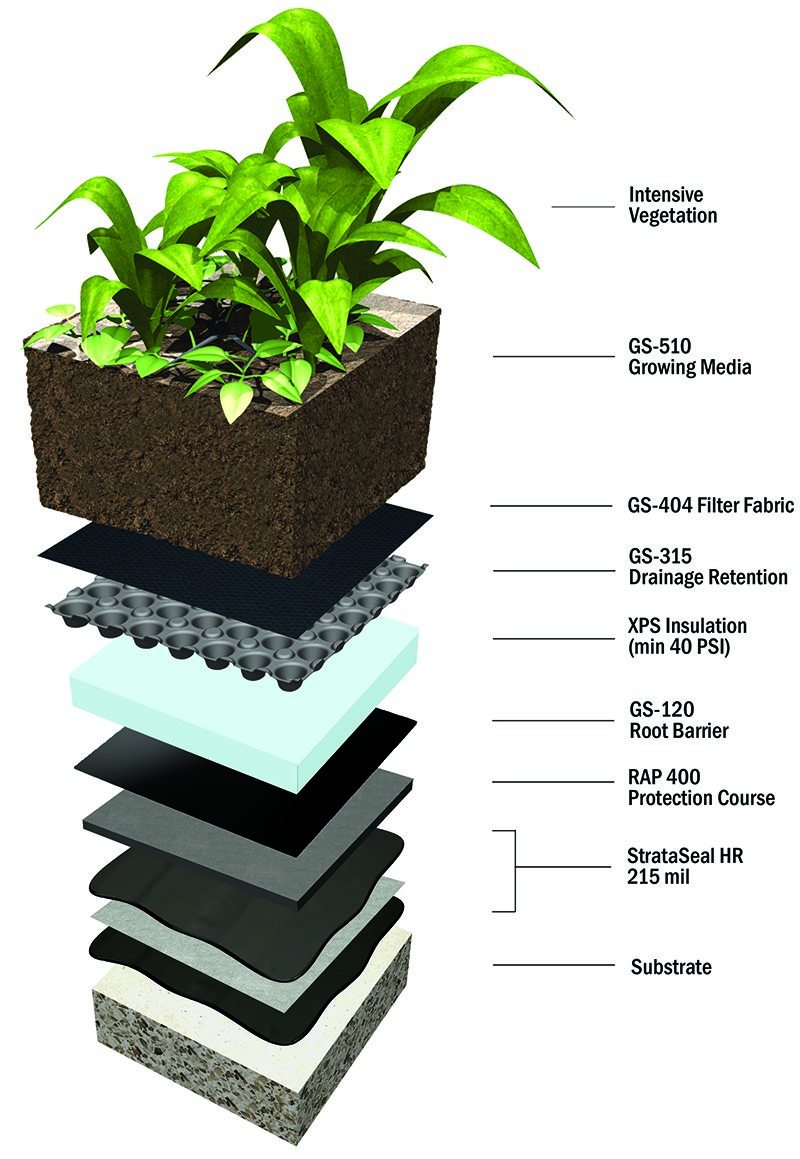 GREENSCAPES GS-110 (Root Barrier, Vapor Barrier, & Protection Course): A single ply polyethylene sheet used as a root barrier with an extensive GREENSCAPES Assembly, GS-110 can also be used in deeper assemblies where no woody species are to be planted. GS-110 is manufactured with polyethylene resins that provide high tensile strength, high puncture resistance, low moisture vapor permeability, and excellent resistance to root penetration and decay.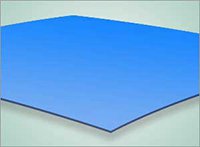 GREENSCAPES GS-120 (Root Barrier): A thermoplastic weldable root barrier liner used within waterproofing and green roof assemblies, GS-120 features polyester woven fabric coated with a thermoplastic coating to provide high tensile strength, high puncture resistance, low moisture vapor permeability, and excellent resistance to roots and decay.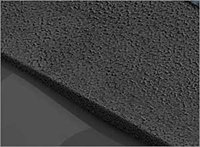 GREENSCAPES GS-300 (Drainage Composite): The GS-300 composite material promotes drainage. It consists of a non-woven polypropylene filter fabric bonded to the top side of a polypropylene drainage core made up of fused, entangled filaments that are molded into a square waffle pattern that maintains GS-300's flexibility.
GREENSCAPES GS-310 (Stormwater Management): A stormwater retention and drainage composite product, GS-310 consists of a three-dimensional polystyrene formed dimple core that not only provides compressive strength to support subsequent layers but retains stormwater while allowing excess to drain.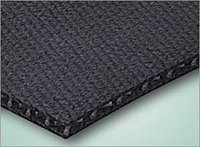 GREENSCAPES GS-315 (Drainage/Retention Panel): A drainage/retention panel that retains water for plant root uptake while allowing free flow of excess water over both the top surface and underneath the panel. GS-315 is made of high density polyethylene that is very lightweight yet strong enough to support a high overburden load.
GREENSCAPES GS-232 (Moisture Retention Mat): A heavyweight, non-woven geotextile composed of recycled fibers designed to retain moisture, GS-232 helps sustain green roof plant life while protecting against penetration (such as by garden tools) of the root barrier and waterproofing layers.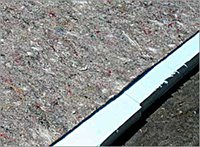 GREENSCAPES GS-404 (Filter Fabric): A non-woven geotextile allowing drainage of stormwater from the growing media to the water management layer. In addition to retaining the growing media, it provides excellent laminar flow. GS- 404 maintains separation and provides a cushioning layer between the growing media from the water management layer.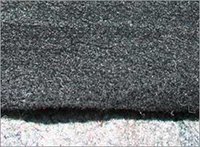 GREENSCAPES GS-500 Series Growing Media: GS-500, GS-505 and GS-510 are lightweight, engineered growing media blends for green roofs. The GS-500 series consists of a uniform distribution of aggregate grain sizes and organic materials producing consistent color, structure, and texture that allows the media to maintain specified aeration, water permeability, erosion resistance, and root penetration. The GS-500 series promotes sustainability of the green roof with a careful balance of physical, chemical, and biological properties that promotes vegetative growth.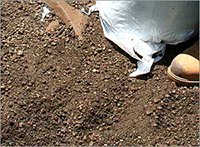 PLANTS
GREENSCAPES Plant Plug Trays (For Extensive Green Roofs): Featuring over 50 sedum varieties and more than 25 other small herbaceous perennials, GREENSCAPES plant plug trays offer a wide variety of plants suitable for growing on extensive green roofs. They are available in a standard 72-cell tray and a custom grown 24-cell tray. Specific selections can be made to suit site conditions such as light to moderate shade, high wind, hot and dry environments, or cold to moderate growing zones; selections can also be made as to suit design criteria such as maximum color, season long bloom and winter interest.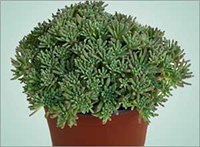 GREENSCAPES Bulk Sedum Cuttings (For Extensive Green Roofs): GREENSCAPES Bulk Sedum Cuttings are ½ - 2 ½ inch long, spontaneously-rooting stems available in a wide variety of sedums. Suitable for growing on extensive green roofs. Sedum cuttings are a great choice for low-cost planting of extensive green roofs, overplanting of plug installations, repair of damaged green roof areas, and filling in sparse areas on extensive green roofs.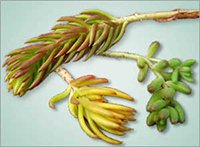 GREENSCAPES Sedum Tile (Pre-Vegetated Sedum Sod):
A mixture of sedum varieties planted over a thin coconut coir fiber base covered with approximately one inch of growing media, sedum tile is planted and greenhouse grown in controlled conditions. Vibrant and beautiful, it's available in four standard varieties:
Color Max, with maximum flower and foliage color varieties
All Seasons, with all non-deciduous varieties for winter interest
Shade Mix, with low-light tolerant varieties
Tuff Stuff, with the hardiest varieties for challenging growing conditions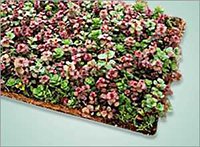 GREENSCAPES Sedum Mat (Prevegetated Sedum Carpet): Planted and field grown, GREENSCAPES sedum mat consists of 8-11 mixed varieties of sedums planted over a coconut coir fiber base covered with approximately one inch of growing media.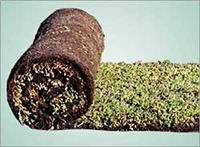 ADDITIONAL PRODUCTS AND ACCESSORIES
GREENSCAPES Aluminum Edging: Separating growing media from non-vegetated zone cover such as rock ballast or pavers GREENSCAPES aluminum edging still allows free flow of water (when used with a filter fabric such as GREENSCAPES GS-404). Made of slotted, unfinished aluminum bent to form an L-shaped restraint perimeter, it's available for both straight and curvilinear applications, in one-inch incremental vertical leg sizes ranging from 3.5 inches to 8.5 inches, with custom sizes up to 14 inches tall also available.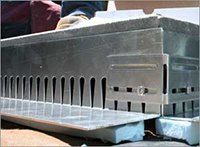 GREENSCAPES GS-T Modular Tray System: Manufactured in 60% post-industrial recycled high density polyethylene (HDPE) with UV stabilizers. The GREENSCAPES GS-T modular tray system features raised drain holes in the corners that allow rainfall over its surface to be retained in the tray. It may be purchased empty for onsite planting or pre-grown and delivered for a finished look on the day of placement.
GREENSCAPES Geocell Cellular Confinement Assembly: An engineered assembly designed to prevent slippage of growing media on high slope green roofs, the GREENSCAPES geocell cellular confinement assembly includes a three-dimensional, expandable panel made of virgin, non-thermally degraded high-density polyethylene attached to the structure with stainless steel cable tendons. Gravitational loads are resisted at tendon attachment points with copper oval sleeves that are swaged (crimped) onto the tendons. Loads are further distributed along the tendons with copper stop sleeves at points determined by specific project conditions, and perimeter stability is realized using edge tendons and polystyrene spacers. Each assembly is individually engineered to specific project conditions up to a 12:12 (45⁰) slope (or even higher with additional considerations). Available for growing media depths of 3.5–12.5 inches, the assemblies can be stacked to achieve greater depths. The GREENSCAPES Geocell Cellular Confinement Assembly is engineered and sold as a package that includes everything except the attachment to the structure.
GREENSCAPES Inspection Chambers: Providing accessible covers for roof-mounted drains associated with green roofs GREENSCAPES inspection chambers help prevent debris from entering drains and cutting off light—eliminating the potential for plants to grow into the drains. Constructed of 18-gauge stainless steel with perforated sides, the 4-inch tall chambers (with 1", 3.5", and 8.5" extensions available to accommodate deeper green roof profiles) feature 4-inch flanges and a removable lid and are come in standard size (11" x 11" x 4") and large size (18" x 18" x 4").
GREENSCAPES GS-624 Erosion Control Blanket: Functioning as a mulch to aid in the establishment of sedum cuttings, the GREENSCAPES GS-624 Erosion Control Blanket protects plugs and adjacent bare growing media areas from wind and water erosion. Its heavy-duty protection helps for 18-24 months in establishing vegetation installed over GS-500 Series Growing Media. Composed of a matrix of coconut fibers stitched together with a biodegradable thread and a natural fiber top and bottom netting, it's 100% biodegradable.
CETCO - Pioneer and leader in waterproofing
CETCO is the leader and pioneer in cutting-edge waterproofing membranes. Around the globe, our innovative teams of clay mineralogists, chemists, and polymer scientists transform ordinary minerals into extraordinary technology to solve day-to-day problems worldwide.