Vapor Intrusion Mitigation Products
Vapor Intrusion Mitigation Products
Over 50 Million Square Feet of Successful Installations
CETCO vapor intrusion mitigation products have been an innovative and reliable solution to meet the challenge of vapor containment for over 30 years. Installed under hospitals, schools, libraries, high-rise commercial and residential buildings, single family housing developments and major public works projects throughout the world, professionals trust CETCO for reliable protection.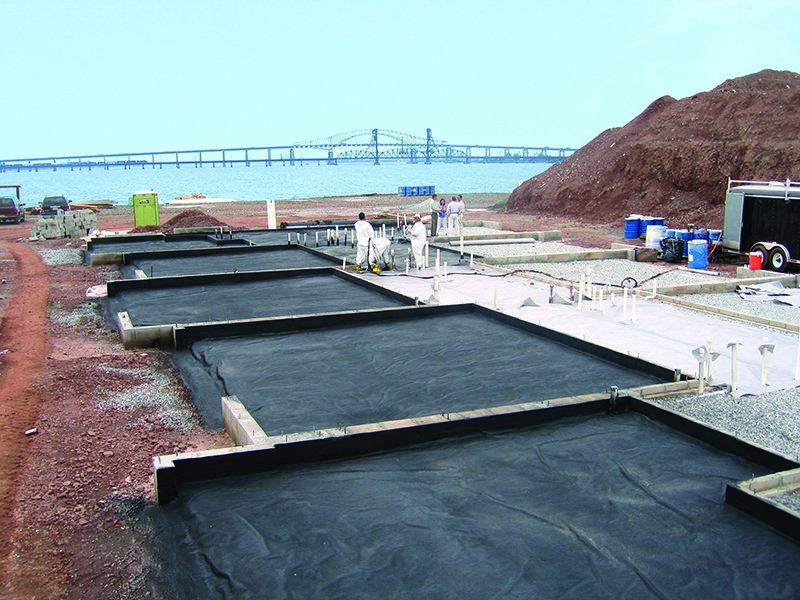 Vapor intrusion is the migration of subsurface chemical vapors into overlying structures. Vapors may include volatile organic compounds (VOCs), semi-volatile organic compounds, inorganics (e.g. mercury, hydrogen sulfide, etc.), methane, or radon.
CETCO offers uniquely designed vapor intrusion barrier systems developed to meet the needs of your brownfield redevelopment project. These systems offer solutions for various site conditions, backed by a long track record and numerous case histories, and are designed with the support of our experienced technical managers.
Chemically resistant, reliably seal vapor intrusion pathways, preventing penetration by contaminated vapors

Assurance of proper installation by a network of CETCO trained and certified installers and inspectors

Established diffusion coefficients enable risk-based performance modeling
System design and performance considerations
Regulations, requirements and guidance on the use of vapor intrusion barrier systems vary by location. Some locales have specific action limits based on chemical concentrations and some regulations establish maximum risk criteria for indoor air quality. The use of risk-based vapor intrusion models is recommended in determining the appropriate CETCO vapor intrusion mitigation product. CETCO provides technical assistance to engineers in the use of these models.
Utilizing a model to evaluate indoor air quality assures the designer that gas vapor mitigation technologies will effectively control vapor intrusion reduce the related hazards. CETCO offers innovative vapor intrusion barrier systems that will reliably provide the protection from these potentially harmful vapors that could compromise overall indoor air quality.
Certified installers and inspectors: In any proper vapor intrusion barrier system installation, it is important to perform QA/QC measures to ensure successful installations. CETCO maintains a nationwide network of certified installers and inspectors that are trained in the proper installation and inspection procedures of a CETCO vapor intrusion mitigation system. CETCO pioneered the use of a smoke test, which is currently recognized by top guidance organizations as a reliable quality control method performed on CETCO vapor intrusion mitigation systems.
Smoke testing for vapor intrusion barrier systems: A smoke test is a method of ensuring that a membrane is free of holes. Smoke is pumped under the membrane for a specified period of time while the surface of the membrane is observed for minute holes where the smoke is clearly visible. during the smoke test, any holes detected can immediately be repaired. this process has been completed under hundreds of structures and found to be highly successful. the smoke testing process assures engineers, developers, and owners alike that they are getting a fully tested, gas tight membrane installation.