Go Green with Your Roof and Reap the Benefits
Replacing rigid, impermeable structural surfaces with plant life, green roofs are an emergent solution that provide significant benefits not only to the environment but to the people living in the green roof structure.
Your wallet and the planet come out ahead.
A green roof is a system installed over a traditional building roof to create a growing, living green space on top of the structure. It typically includes high quality waterproofing, a root repellent barrier, a drainage system, a lightweight growing medium, and of course, plants.
Green roof installations have shown a proven return on investment—beyond even the environmental benefits—particularly in urban areas. Increasingly, building owners and city planners are now turning to green and sustainable construction.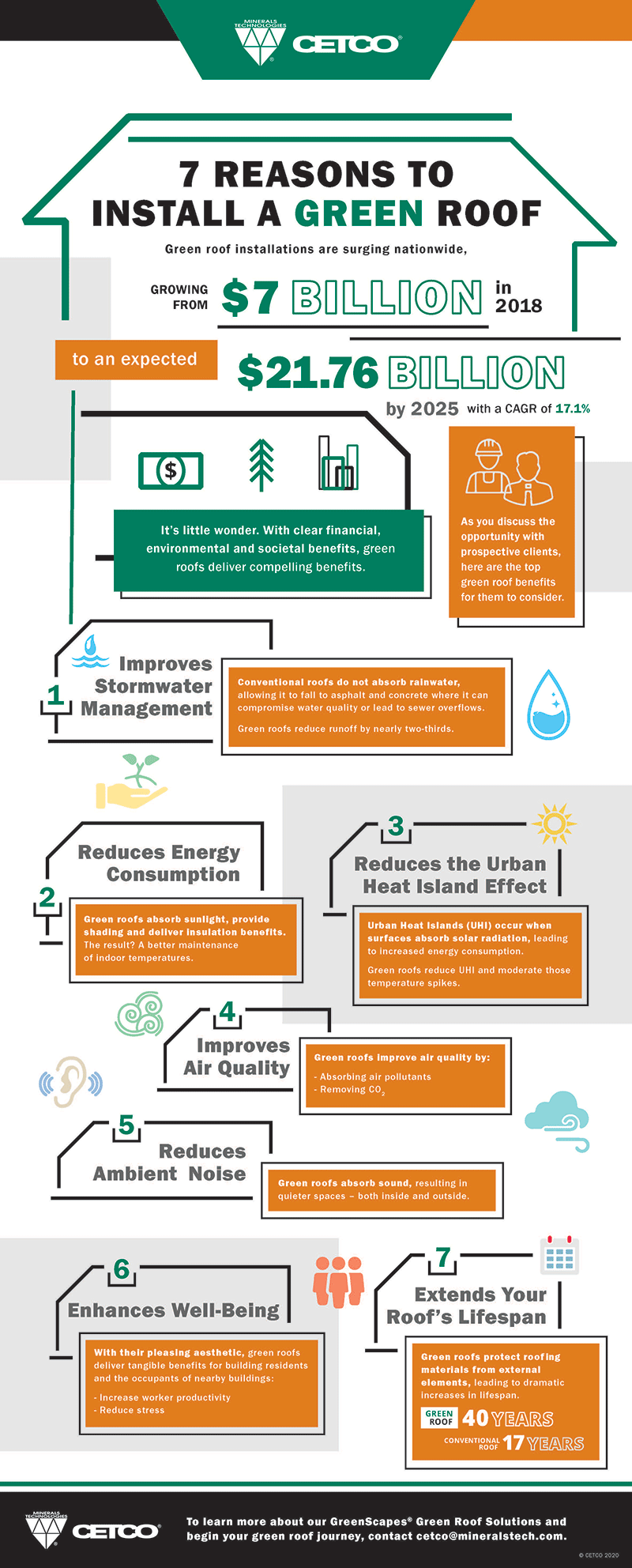 Reduced Heat Island Effect
The Urban Heat Island (UHI) effect is the phenomenon of hard surfaces, such as roofs, absorbing solar energy and then reflecting it back as heat into the surrounding atmosphere, increasing temperatures both around and in a building.
Rather than reflecting it, the plant covering of a green roof absorbs solar energy and uses it to grow. The plants also shade the roof's surface, helping to cool it, and the evaporation of the water held in the growing media and evapotranspiration of the plants contribute humidity and further cool the surrounding air. A green roofs helps moderate temperatures around and in a building, reducing spikes and cooling building interiors by as much as 40⁰F while lowering city-wide ambient temperature by as much as 5⁰—producing a bottom-line energy savings of around $0.23 per square foot.
Improved Energy Consumption
Although green roofs are not considered true insulation (because the water in the growing media acts as a conductor of heat), they do reduce energy use. In hot summer months, green roofs provide a thermal mass that absorbs a portion of the sun's energy, reducing cooling costs. In winter months, the plants and growing media provide a buffer to cold winds while the water in the growing media remain near 32°F—even when the surrounding air is significantly colder—reducing heat loss and saving energy costs.
In a 2018 case study conducted by the U.S. Environmental Protection Agency (EPA) in Kansas City, Missouri, the annual energy consumption savings for total green roof systems averaged 601,502 kilowatt-hours, yielding an electricity cost savings of approximately $41,000—the equivalent to: the carbon sequestered by 555 acres of forests in one year; or, the greenhouse gas emissions from 90 passenger vehicles in one year; or, 72 homes' electricity use for one year; or, more than 54 million smartphones being charged.
A green roof lasts longer than a conventional roof. Green roof systems actually protect the underlying roof structure from the elements and extend the lifespan of the roof—in some cases doubling the number of years before replacement is necessary. In general, the average lifespan of a conventional roof is 17 years, while a green roof can last up to 40 years.
Recognizing the benefits of green roofs, many municipalities and government agencies—including the US Environmental Protection Agency (EPA)—offer tax incentives, favorable zoning concessions, and even outright grants to encourage green roof construction.
Green roofs and their thick vegetation help filter the air by removing carbon dioxide and releasing oxygen. Even more, they absorb air pollutants and particulates, purifying both indoor and outdoor air.
Improved Stormwater Management
Depending on the intensity of rainfall and the specific green roof design, water runoff volume can be reduced by between 50% and 90% with a green roof, while the time of peak flow into the sewer system can be increased from 1 to 4 hours. When coupled with other stormwater practices such as rain gardens and detention/infiltration ponds, green roofs can help manage stormwater to pre-development levels—or even zero discharge of stormwater—reducing flooding after major storms.
Green roofs filter out airborne pollutants and dust that land on their surface. When rain falls, these particulates become chemically bound in the growing media or are broken down by the media's natural chemical and biological processes.
Reduced Indoor Ambient Noise
Green roofs absorb sound, resulting in quieter spaces—both inside and outside.
Research has shown that extensive green roofs with as little as 3 or 4 inches of growing media can reduce high frequency noise by up to 3 decibels and low frequency noise by as much as 8 decibels. In other words, inside on a green roofed building's upper floors, noise levels can be cut from distracting to mere background sounds—especially in noisy urban areas.
CETCO - Your custom green roof experts
CETCO has decades of experience innovating construction solutions that provide value and security to our customers. Since our first waterproofing patent was issued in 1942, our quality materials have protected thousands of structures, including plaza decks, rooftop planters, and earth-covered applications.
For green roofs, CETCO GREENSCAPES® offer complete solution for green roof assemblies, providing everything the waterproofing to planting media to the plants themselves. For complex or intensive applications, we also provide professional designers.
You get everything you need to ensure a successful green roof—with all with the convenience and peace of mind of working with a single source provider.
Designing your green roof
A green roof designed as a daily recreational space can be quite different from one designed for maximum stormwater absorption. Deciding the specific purposes of your green roof and designing for them, then, is important to help save you time—and design fees. We offer a complete range of support in putting together your green roof plan:
Design Team


For a small, simple project, a team of two or three individuals working with an architect is often all that's needed, especially if the team members possess a range of skills. For a larger or more complex project, however, the design team may require special expertise and have several additional professionals on board. Your CETCO design team can include: Structural Engineer, Roofing Membrane Expert, Green Roof Expert, Landscape Architect, Stormwater Engineer, as well as other specialists.

Site Analysis


The site analysis evaluates factors concerning the site that can impact the design. These can include, budget, local building codes, roof load limits, the height of the building, prevailing winds, fire hazards, slope and drainage, climate, sunlight, roof accessibility, and many more.
CETCO GREENSCAPES® provides complete assemblies for virtually any custom green roof application to match the unique requirements of your design. Green roof assemblies fall into three categories:
Extensive Assemblies, designed to support a select range of highly drought-tolerant plants that are self-sustaining and require minimal maintenance. Extensive green roofs are not usually intended for recreational use. Rather, they're lightweight, relatively inexpensive systems that maximize the cost/benefit ratio for gaining the benefits of a green roofs. Extensive systems can weigh as little as 15 pounds per square foot, making them a viable choice for almost any roofing application.
Intensive Assemblies, true rooftop gardens as formal as any garden on the ground, with features such as patios, ponds, fountains, and gazebos or as natural as any prairie, meadow, or forest floor. Intensive green roofs are usually designed as recreational spaces and add a dramatic amenity for any building. Limited only by the imagination of the designer—and the load-bearing capacity of the underlying structure—intensive green roofs can weigh as little as 40 pounds per square foot to several hundred pounds per square foot.
Semi-Intensive Assemblies, with characteristics of both extensive and intensive assemblies. Although plants in a semi-intensive assembly may include groundcovers such as those seen in an extensive roof, these roofs are typically planted with prairie plants or more drought-tolerant, native, herbaceous species. Grasses and small or dwarf shrubs or trees may also be included. Semi-intensive green roofs usually include a full or partial irrigation system since the wide range of plants used often have varying moisture requirements.
Alternative designs can also include pre-planted Modular Trays (a series of trays that hold engineered growing media and plants) and High Slope Systems, (engineered to prevent growing media from slipping when the degree of slope exceeds the angle of repose of the media).
Whatever your project may require, CETCO has the expertise and products to bring your unique green roof to luscious life.
CETCO - Pioneer and leader in waterproofing
CETCO is the leader and pioneer in cutting-edge waterproofing membranes. Around the globe, our innovative teams of clay mineralogists, chemists, and polymer scientists transform ordinary minerals into extraordinary technology to solve day-to-day problems worldwide.