QUIK-SOLID® Super Absorbent Polymer
Advanced Media for Advanced Treatment
An advanced super adsorbent media for containing aqueous matter in critical wastes. The specialty adsorbent is capable of adsorbing as much as 350 times (by weight) of water. It is available as granular media for applications in water and semi-solids or is available in a laminated mat for lining transport containers.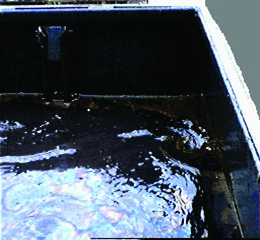 Before application of QUIK-SOLID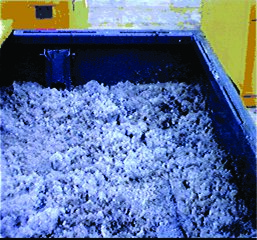 After application of QUIK-SOLID
Three variations available
QUIK-SOLID 50

is a custom blend of granular cross-linked polyacrylate super absorbent polymer and ORGANOCLAY. This high performing product rapidly absorbs and retains large volumes of aqueous solutions, while also offering a hydrophobic component to adsorb low soluble organic matter. The absorptive properties of QUIK-SOLID 50 are ideally suited for the solidification of wastewater, sediments and semi-solids containing organic laden contaminants.

QUIK-SOLID Booms

are a higher performing alternative to traditional cellulose absorbent products that are utilized for hazardous, non hazardous and low level radioactive waste disposal. QUIK-SOLID super absorbent media and a cellulose filler material are packaged in a closed nylon sock to ensure maximum polymer retention and absorbency. The sock can be cut to size and placed in drums, boxes intermodal and other transport containers for solidification of aqueous matter and condensation control.

QUIK-SOLID Mats

are a high-performing yet lower cost alternative to other absorbent fabric products that are used in the hazardous waste or nuclear waste disposal industry. QUIK-SOLID Mats are made with polyester fabric layers bonded together with a special polyolefin adhesive. The QUIK-SOLID granular absorbent polymer is embedded between the layers of fabric and the entire laminate structure is made of non-biodegradable materials.