Your Advantage for Sub-aqueous Sediment Treatment
Reliable and adaptable REACTIVE CORE MAT gives you the versatility for underwater containment mitigation when shallows and slopes rule out the use of other sediment treatments.
It goes where you need it.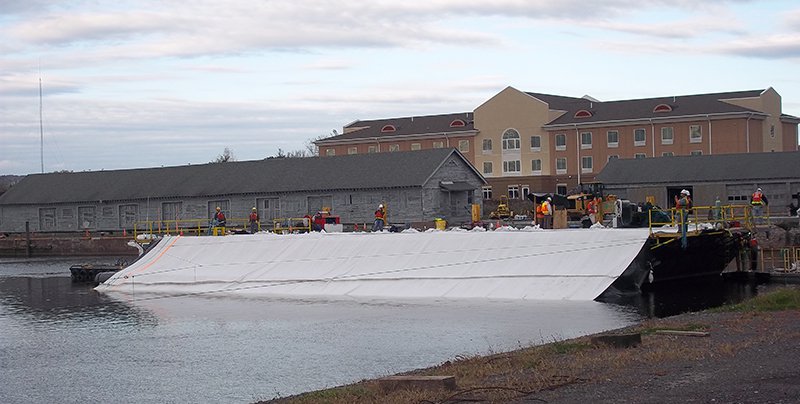 Treats sediment where other products can't
CETCO REACTIVE CORE MAT helps you place reactive materials underwater to treat contaminated sediment. By encapsulating active materials in geotextiles, it gives you the advantage of control over the adsorptive materials: Rather than spreading loose material—which can just slide off on sloped surfaces or raise a bottom surface and reduce navigable depth—REACTIVE CORE MAT is laid out in sheets that not only provide uniform coverage, but are more stable and more resistant to bio-intrusion. What's more, as it's applied in far thinner layers to achieve the same quality of contaminant mitigation, it saves your budget as well.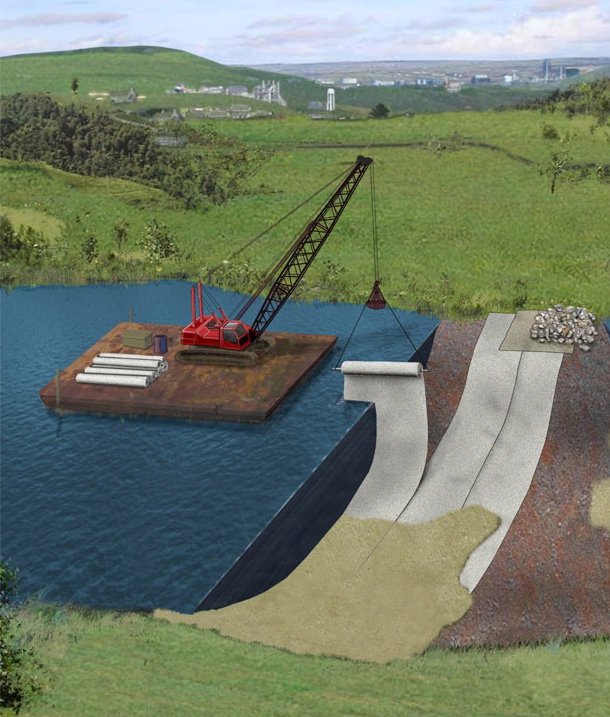 In situ sediment treatment
Deployed as an active in situ treatment layer directly over contaminated sediment, REACTIVE CORE MAT can be deployed instead of - or in combination with - dredging. Depending on site conditions, traditional sand caps may prove unfeasible, or result in an excessively thick design. CETCO sediment capping technologies address concerns about navigation, placement, bio-intrusion, and flow patterns. Active cap designs incorporate active or adsorptive media to capture or treat the contaminants and result in a reduced thickness of the cap design.
Mitigates dissolved contaminant transport into surface water

Reduces require cap thickness through its adsorptive capacity,

increasing navigable depth when compared to traditional in situ capping methods

Geosynthetic composite stabilizes sediments

Minimizes re-suspension of contaminants

Ensures verifiable coverage of sediments with a defined mass per area of reactive material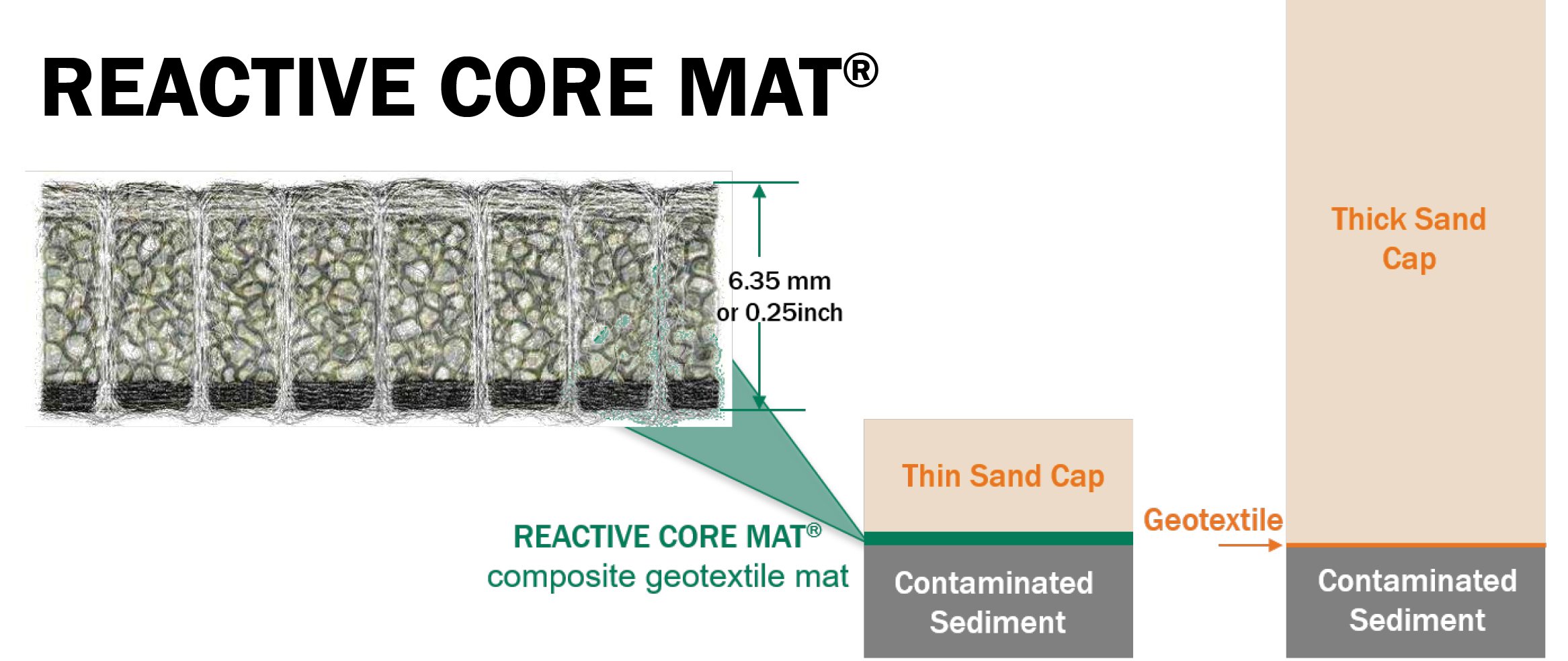 Embankment seepage control
On waterway embankments, REACTIVE CORE MAT controls subsurface contaminants, decreasing threats to wildlife and aquatic ecosystems. Combining a non-woven geotextile with a reinforced composite system, placement of reactive materials on slopes is more achievable as well as:
Reduces contaminant transport into ground and surface waters




Ensures mass-per-area coverage of reactive material

Resists differential settlement and erosion
REACTIVE CORE MAT is a patented permeable composite mat that encapsulates active material(s) between two layers of adhered, non-woven carrier geotextiles. The high hydraulic conductivity of the textile allows water to pass through the active material to remove the contaminant while its tensile strength resists differential settlement—all while physically isolating contaminated sediments from the environment of the reestablished benthic zone.
REACTIVE CORE MAT is versatile and 100% customizable. CETCO has the capability of manufacturing REACTIVE CORE MAT with a variety of reactive core materials.
| | |
| --- | --- |
| Suggested Materials | Reactive Description |
| ORGANOCLAY | ORGANOCLAY adsorbs low-soluble organics and associated metals (PAHs, PCBs, methyl mercury). Specialty versions are also available to sequester all forms of mercury and arsenic. |
| Granular Activated Carbon (GAC) | Commonly used wastewater treatment media that adsorbs organics |
| Apatite | Phosphate-based mineral that complexes heavy metals |
CETCO - Pioneer and leader in environmental remediation
CETCO is the leader and pioneer in cutting-edge environmental remediation solutions. Around the globe, our innovative teams of clay mineralogists, chemists, and polymer scientists transform ordinary minerals into extraordinary technology to solve day-to-day problems worldwide.