RESISTEX® Geosynthetic Clay Liners
Meeting the Most Demanding Chemical Compatibility Requirements
RESISTEX Geosynthetic Clay Liners are a polymer-modified bentonite GCL that are engineered to provide the highest level of chemical compatibility for hydraulic barrier performance in extremely aggressive leachate environments.
Our RESISTEX family of GCLs offer compatibility with a wide range of pH, electrical conductivity, and ionic strengths that are common to mining liquids. CETCO recommends project-specific compatibility testing for the proper selection from the RESISTEX family of GCLs.
NEW! RESISTEX® Universal GCL Series for Optimal Performance Against CaCl2
A new class of polymer modified GCLs has been added to the RESISTEX GCL family: the RESISTEX Universal GCL series. The Universal series offers world-class performance against Calcium Chloride (CaCl2), making this series a comprehensive choice for most leachates and accelerating the leachate compatibility evaluation process.
Designed to withstand medium to high strength leachates, including coal ash, high pH mining leachates, and low pH mining leachates, the series includes RESISTEX U40 GCL, RESISTEX U60 GCL, and RESISTEX U80 GCL - each variation distinguished by their polymer content.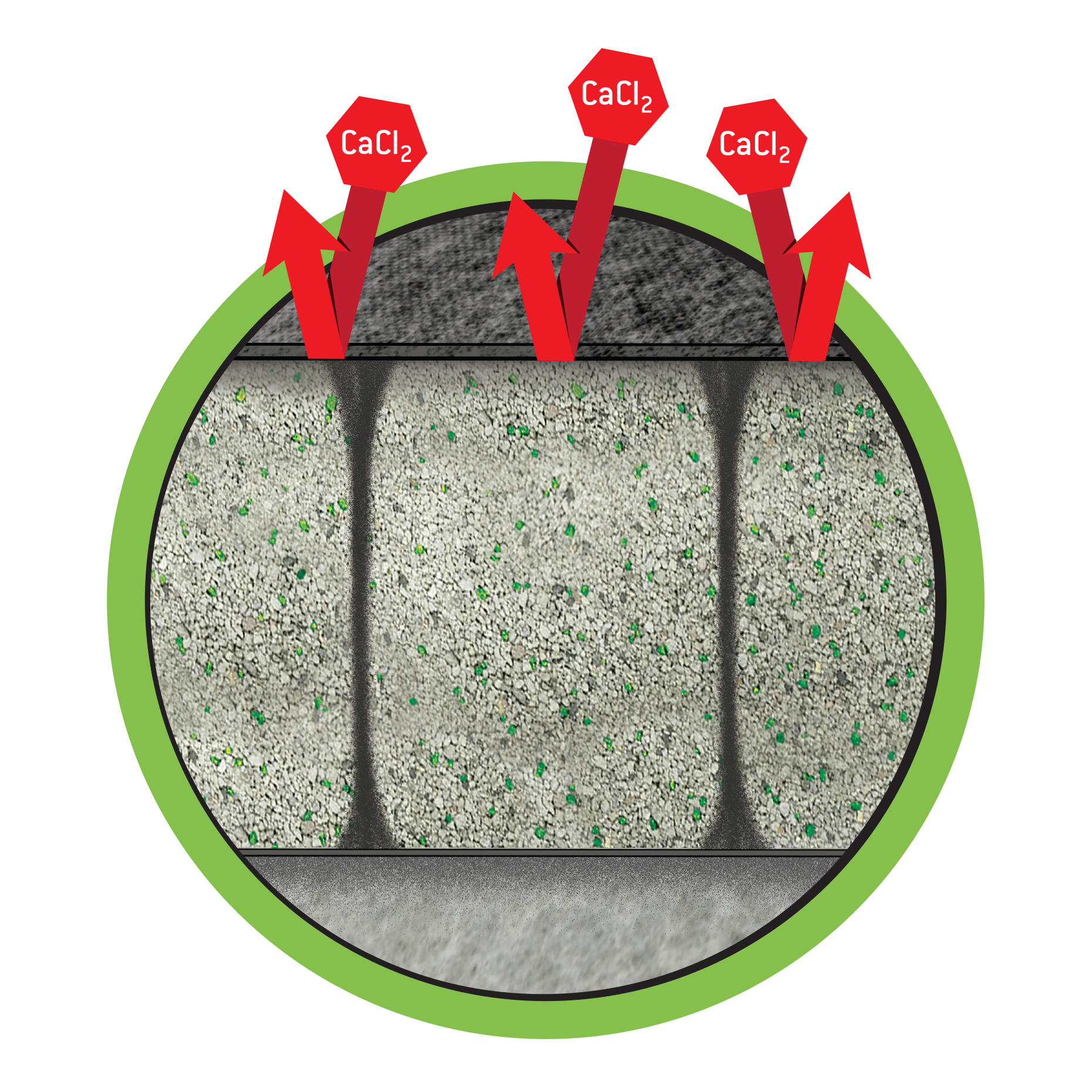 By reducing the effects of ion exchange and offering lower hydraulic conductivity against aggressive groundwater chemistries, the RESISTEX Universal GCL series is a standout addition to the RESISTEX GCL family with its proven performance against aggressive leachates. This includes increased swelling and sealing capabilities and robust chemical resistance to aggressive leachates at higher effective stresses post-ion exchange.
Unmatched chemical resistance
Dry-blended, polymer-treated GCLs are designed to provide improved chemical resistance in moderately aggressive leachate environments. The polymers help to reduce the effects of cation exchange by swelling and partly offsetting the reduced bentonite swell.
RESISTEX GCLs offer compatibility with a wide range of pH, electrical conductivity, and ionic strengths and are more effective than standard bentonite for contaminated chemical environments. RESISTEX GCLs may be custom engineered to meet project-specific requirements and are available with different polymer types and loadings.
RESISTEX Geosynthetic Clay Liners were the recipient of the GeoME "Best Geosynthetics and Technology" award in 2015.
Common applications for RESISTEX GCLs
CCR storage

Red mud storage

Heap leach pads

Mine tailings dams

Caps

Solid waste storage bottom liner

Secondary containment

Pond liners
100
Low Ionic Strength

High RMD (Ratio of Monovalent to Divalent Cations)
200
Medium

Ionic Strength

Medium RMD

(Ratio of Monovalent to Divalent Cations)
300
High

Ionic Strength

Low RMD

(Ratio of Monovalent to Divalent Cations)
FLW9
Highly contaminated liquids with steep slopes
Universal Series: U40, U60, U80
World-class performance against calcium chloride (CaCl2)

Designed to withstand medium to high strength leachates, including coal ash, high pH mining leachates, and low pH mining leachates

Variations available include U40, U60, and U80; each variation distinguished by their polymer content