FLUORO-SORB® Adsorbent
Removing PFAS Economically and Effectively
CETCO is tackling PFAS. FLUORO-SORB® adsorbent is a proprietary, NSF-certified product designed to globally support remediation efforts surrounding per- and polyfluoroalkyl substances (PFAS). Vetted by leading research universities, FLUORO-SORB adsorbent is proven to be effective and economical.
Unlike other sorbent products that are selective and unpredictable in adsorbing PFAS, FLUORO-SORB adsorbent binds the entire spectrum of PFAS (including PFOA, PFOS, PFHxS and PFNA) without being affected by co-contaminants in the waste stream, including BTEX, TCE, Hydrocarbons (diesel), Natural Organic Matter, salinity, and pH.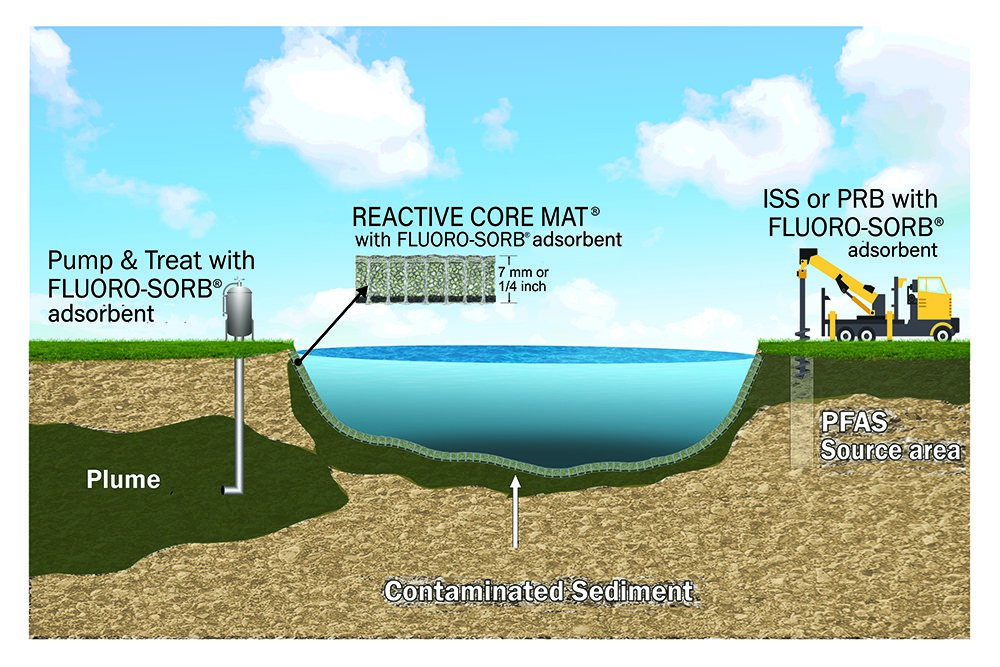 As FLUORO-SORB adsorbent platelets begin to adsorb PFAS, the platelets expand which allows for greater sorption kinetics and capacity, which makes it significantly more adsorptive.
Versatile Deployment Strategies
FLUORO-SORB adsorbent can easily fit into your existing remediation efforts. Its versatility in deployment allows it to be used in the following:
Flow-through filtration media for drinking and/or groundwater with an Empty Bed Contact Time (EBCT) as low as three minutes. It can be used on its own or as pre- or post-treatment in connection with your existing water treatment trains. By incorporating FLUORO-SORB adsorbent, you can significantly extend the life of your pump & treat media and reduce the number of changeouts required for a positive impact on your operational costs and lower disposal costs for spent media.
Permeable Reactive Barrier (PRB) for groundwater and source control.
In-Situ Stabilization and Solidification (ISS) for groundwater and source control.
Sediment cap by utilizing FLUORO-SORB adsorbent within a CETCO REACTIVE CORE MAT®

composite geotextile mat for soil/sediment remediation.
FLUORO-SORB adsorbent is commercially available today. Manufactured in our ISO9001:2015 certified production facility in the United States, FLUORO-SORB adsorbent has been vetted by leading research universities as well as numerous field pilot studies to be a highly effective treatment media. All FLUORO-SORB adsorbent products meet NSF/ANSI 61 certification.
We encourage you to run your own trials on FLUORO-SORB adsorbent. We will provide you with:
Free samples

Testing program and data review input

Sampling and shipping instructions

Complete isotherm testing program

Slipstream column testing unit
Four Variations Available

FLUORO-SORB adsorbent is available in a variety of grain sizes and blends to maximize efficiency on each project.
FLUORO-SORB 100: In-Situ Solidification & Stabilization (ISS)

FLUORO-SORB 200: Pump & Treat, Permeable Reactive Barrier (PRB)

FLUORO-SORB 300: High Organics Wastewater Treatment

FLUORO-SORB 400: Pump & Treat, Permeable Reactive Barrier (PRB)
Available in 1500lb (680.4 kg) supersacks.