The CXJ Series:
CXJ-200 and CXJ-400
Dual-Cell Center Gland Expansion Joint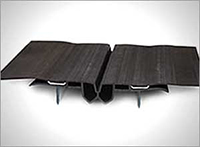 The CXJ-200/CXJ-400 expansion joint system consists of an extruded, thermoplastic, dual gland expansion joint seals with integrated side flanges that are used to waterproof structural concrete expansion joints for positive-side below grade foundation walls and under structural slabs. The CXJ-200/CXJ-400 expansion joint system can be integrated with CETCO's waterproofing systems to create a true single source waterproofing system.
Movement at the joint is accommodated by the geometric shape of the double-cell, center gland configuration with two material layers to form the system. The center gland geometric shape is purpose-designed for low strain during movement, for optimal performance.

The unique double flange design of the CXJ-200/CXJ-400 facilitates multi-layered, watertight
integration with the waterproofing system. A termination bar and anchors are installed on both sides of the center gland to mechanically secure both inside flanges of the CXJ-200/CXJ-400 to the concrete.
Structural concrete expansion joints in below-grade foundations, including:
Backfilled walls

Under slabs

Blind-side shoring wall applications, such as soldier pile and lagging
Can be used for both hydrostatic and non-hydrostatic conditions
High movement

capability

Dual-cell center gland provides redundant sealing

Integrated dual side flanges provide integration with waterproofing membrane

Factory-fabricated transition and termination components

Heat welded seams for watertight

connections