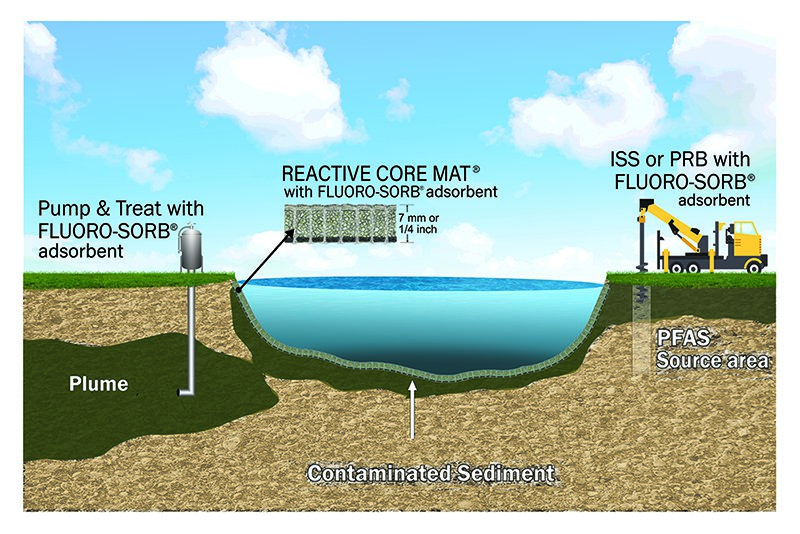 CETCO and AST Environmental, Inc. Partner Up to Provide Revolutionary FLUORO-SORB® Technology for In-Situ Injection
Apr 3, 2023, 14:05 PM
CETCO, a leading provider of environmental solutions, and AST Environmental, Inc., an industry leader in the application of geotechnical services and injection technologies, are pleased to announce their new partnership providing the proprietary FLUORO-SORB® Adsorbent technology for in-situ injection applications domestically & internationally. This revolutionary technology is designed to immobilize per- & polyfluoroalkyl substances (PFAS) found in groundwater, allowing for a more cost-effective solution than traditional pump and treat systems.
FLUORO-SORB® Adsorbent is a solid product that when applied through direct injection, the material is comprised of a slurry suspension. AST's decades of experience successfully injecting slurries into overburden, transition zones, & fractured bedrock settings make this partnership a natural fit.
Using this technology can significantly reduce initial cost outlays and total project costs while also reducing ongoing operations and maintenance (O&M) expenses associated with extensive pump and treat systems.
The trend towards in situ management of PFAS in groundwater versus groundwater extraction or in situ soil mixing construction benefits clients by reducing initial cost-outlays, total project costs, and ongoing operations and maintenance (O&M) of expensive and expansive pump and treat systems. The use of this technology also provides flexibility for future changes or additions that may be necessary due to changing regulations or site conditions.
"This collaboration with AST Environmental will provide our customers with access to the most advanced injection technologies available on the market today," said Barry Shadrix, Global Wastewater and Remediation Director at CETCO. "We are confident that this partnership will ensure reliable performance while offering superior support."
CETCO's FLUORO-SORB technology is an ideal solution for remediation projects requiring strict adherence to regulatory standards regarding PFAS levels in groundwater sources.
About AST:
AST Environmental, Inc. is a multi-disciplinary environmental remediation and contracting company, performing in situ soil and groundwater remediation since 1993. Over the past 20+ years, AST has continuously improved our development of mixing and injection systems capable of handling wide ranges of amendments from high-solids slurries to corrosive oxidants, and advances in methods, procedures, and techniques that have been proven to be highly effective in varied geologic settings. Our primary purpose is to provide environmental solutions in an effective, timely, safe, and cost-efficient manner.
About CETCO:
CETCO is the construction technologies subsidiary of Minerals Technologies Inc., one of the world's largest minerals companies with over $2B in annual revenue. They offer solutions for commercial, industrial and infrastructure construction challenges worldwide and are experts in transforming minerals and polymers into technologies that improve productivity and enhance performance. From technical problem solving to on-site supervision, the CETCO team of scientists, researchers and field engineers develop practical solutions for challenging problems. Through a unique combination of global reach, local support, industry technical leadership and world class research and development capabilities, CETCO supports the world's growing infrastructure needs while providing our customers peace of mind - from conception to completion.