ORGANOCLAY – An Effective Remedy For High Molecular Weight Organics
Jul 9, 2023, 03:09 AM
Categories :
ORGANOCLAY
Water & Remediation
If you're in charge of managing a remediation project, you know how hard it can be to keep up with the ever-evolving technology available. That's why we're here to introduce you to ORGANOCLAY™, a cost-effective solution for the remediation of long chain organics (PCB, PAH, Creosote etc.). ORGANOCLAY™ is a clay-based adsorption media that provides efficient and effective stabilization of low-soluble organic matter. It consists of a selective Western sodium bentonite clay that has been chemically modified to attract organic matter without absorbing water.
What is ORGANOCLAY™?
ORGANOCLAY™ is an innovative product that addresses the issue of organic contaminants migrating with groundwater sources and offers big advantages for remediation applications over traditional methods like granular activated carbon (GAC). GAC has proven successful in adsorbing soluble organics, but its performance is reduced due to blinding in the presence of high molecular weight organic matter. Additionally, GAC may be prematurely saturated due to competing active sites used for both organic contaminants and inorganic matter absorption. ORGANOCLAY™ avoids these issues by using granular sodium bentonite clay that has been chemically modified to attract organic matter without absorbing water (no swell).
Benefits of ORGANOCLAY™:
ORGANOCLAY™ gives customers an economical alternative to traditional excavation transportation and disposal. Here are some of the advantages that come with using this innovative product:

High Adsorption Capacity: This unique product is capable of adsorbing significantly more than traditional products such as GAC or iron oxide sorbents. The unique platelet structure of bentonite provides tremendous surface area and the capacity of the media to adsorb over 60 percent (by weight) in organic matter. No matter the size of your project, this makes it ideal for tackling high concentration organics projects.
No Blinding Problems: One problem associated with GAC is that it can become "blocked" when exposed to high molecular weight organic matter. With ORGANOCLAY™, blinding problems are significantly reduced or eliminated altogether!
Cost Savings: By utilizing this innovative product, customers can save money compared to other methods while still achieving remedial goals. Organoclay can be placed in-situ via traditional soil mixing, hollow stem auger and injection providing option for any site conditions.
Remediation Applications Examples:
In Situ stabilization of contaminated sediments at a former pesticide facility
The objectives of this remedial plan included protection for people and wildlife against potential contact with a contaminated lake's surface water and sediment. Due to the significant concentration of organic contaminants, traditional solidification agents were ineffective.
A sufficiently protective remedy was devised by going beyond traditional soil solidification techniques. The solution included stabilization of lake sediments utilizing ORGANOCLAY™ organic adsorption media and the installation of a low-permeability cap constructed over the stabilized sediments.
As a result, the lake sediments were sufficiently solidified with the cement in the mix design and the chemical contaminants stabilized by adding adsorbent media which included CETCO's ORGANOCLAY™. The former lake has been filled in and the surface has been graded and covered with a low-permeability cap that included CETCO's BENTOMAT® ST Geosynthetic Clay Liner (GCL).

ORGANOCLAY™-filled reactive core mat DNAPL remedial barrier
Creosote was present in gravel comprising the rail bed and surrounding work yard at an active railroad-tie wood-treating facility. Dense non-aqueous phase liquid (DNAPL) had been observed discharging to a nearby drainage ditch. The DNAPL in the gravel was contributing to nearby ground surface staining associated with periodic surface discharges of groundwater.
A multi-faceted remediation was required. It consisted of material removal and installation of shallow groundwater interceptor trenches and passive DNAPL barrier trenches.
The solution involved a 200-foot long passive DNAPL barrier trench designed with 4,500 square feet of REACTIVE CORE MAT® (RCM) filled with ORGANOCLAY™ along the downgradient wall. The RCM was added as an additional precaution to adsorb DNAPL droplets that may be too small to settle before crossing the trench. The trench uses a combination of gravity separation and sorption to intercept DNAPL. Since completed, surface staining has not re-occurred, and DNAPL has not been observed discharging to the site drainage ditch.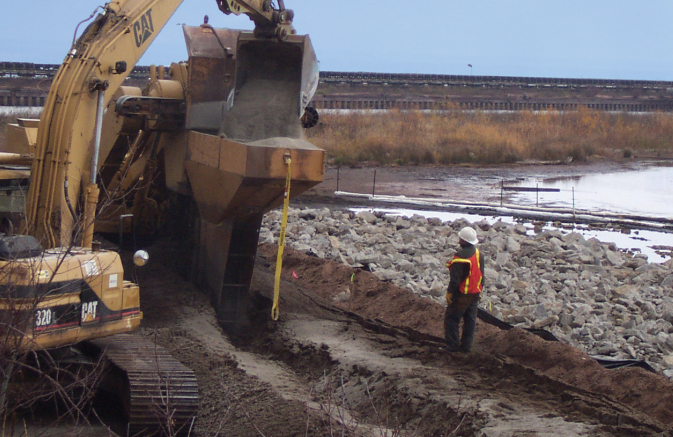 Bulk reactive media used in sediment cap remedy
This river project involved mechanical and hydraulic dredging and removal of 222,000 cubic yards of sediments and soils impacted with PAH, PCB and various heavy metals. The organic laden sediments being capped were unstable in some areas. Furthermore, the stretch of the river widens out considerably and is subject to more water flow from nearby municipal sewage treatment plant discharge.
The solution included a six-inch bulk reactive cap, using a minimum of 2.49 lbs. per ft3 active loading of ORGANOCLAY™ PM-199, to be placed in the river channel where contaminant concentrations were the highest. The ORGANOCLAY™ bulk reactive cap was then topped with one foot of sand. The capping material was mixed in a slurry with water and pumped for placement with BCSTM system. In total, 345,000 cubic yards of contaminated sediment were effectively isolated by the ORGANOCLAY™ reactive cap.
Water filtration media
ORGANOCLAY™ can also be applied as a water filtration media for ground water pump and treat systems, sediment dewatering, aqueous waste disposal, funnel and gate systems and permeable reactive barriers.
ORGANOCLAY™ Features
High non-reversible adsorption sorption capacity for organic compounds, reduces change outs
Extend capacity of GAC by reducing fouling from oils and grease
Remove metals such as mercury and associated organic compounds
ORGANOCLAY™ offers everything you need in one easy package when it comes to remediating contaminated sites. Its high adsorption capacity means it's ideal for tackling even the toughest jobs while avoiding common problems like blinding and premature saturation associated with traditional methods like granular activated carbon (GAC). Plus, its cost savings make it an attractive option for any budget conscious customer looking for maximum results and cost control. If long chain organics are your driver ORGANOCLAY™ - can be your solution!
ORGANOCLAY™, BENTOMAT®, and REACTIVE CORE MAT® are registered trademarks of Minerals Technologies Inc. and its subsidiaries.