Green Roof Solutions Systems
GREENSCAPES
®
Green Roof Systems
Proven system assemblies, job specific growing media and a comprehensive offering of accessories to construct any green roof design.
GREENSCAPES® Green Roof Systems combine the performance of proven waterproofing systems with modern green roof technology and design. Customized to meet your building requirements, CETCO will work with you to develop a green roof solution that is specific to you, taking into account aesthetic, functional and structural requirements. CETCO offers a variety of systems, components and accessories that can create a solution for any scenario. Whether it's a low maintenance extensive assembly, a more comprehensive intensive assembly or a high-slope condition, CETCO GREENSCAPES® offers our customers unique green roof solutions—from the plants to the waterproofing—all from a single source.

Extensive green roof:
Lightweight and drought tolerant, extensive GREENSCAPES Green Roof designs are low maintenance with no irrigation required in most climates. This shallow growing media option is typically used to mitigate the effects of the urban heat island phenomenon and reduce storm water runoff.
Intensive green roof:
GREENSCAPES Green Roof designs have increased growing media depths and therefore look more like traditional roof gardens since they can host a wider variety of plants. They are designed to be accessible for recreational use as well as add green space for visual pleasure. Hardscape elements such as pavers, benches and water features can also be integrated.
Backed by the industry-leading quality assurance program.
Nothing threatens the structural integrity and interior environment of a building like water ingress. And the The HydroShield™ Quality Assurance Program is a proven systematic approach resulting in the most comprehensive water protection in the industry. Period. Read more.
CETSEAL SEALANT/ADHESIVE
A multi-purpose, single component polyether moisture cure sealant/adhesive. CETSEAL is a low VOC, 100% solids, non-shrinking product with excellent UV resistance. Available in 10.1 oz cartridges with 12 cartridges per case at 12 lbs (5.4 kg), or 20 oz foil packs with 12 per case at 20 lbs (9 kg).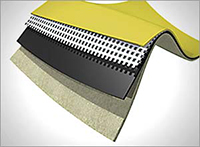 COREFLEX® 60
COREFLEX Consists of a thermoplastic membrane integrally bonded to a self-healing Active Polymer Core (APC). This combination of passive and active barrier technologies, along with fully welded seams, ensures superior waterproofing protection.
READ MORE l TECHNICAL DATA SHEETS
ENVIROSHEET
A self-adhering composite sheet waterproofing membrane, ENVIROSHEET consists of 56-mils of rubberized asphalt and a 4-mil cross-laminated, polyethylene carrier film. The two components are laminated together to produce an extremely tough waterproofing barrier.
PRODUCT SHEETS l TECHNICAL DATA SHEETS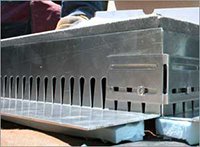 GREENSCAPES™ ALUMINUM EDGING
Made of slotted, 0.1 inch thick unfinished aluminum and engineered to allow free flow of water during even the most intense rain events. Aluminum Edging is available for both straight and flexible, curvilinear applications in one inch incremental vertical leg sizes ranging from 3.5 inches to 8.5 inches. Custom sizes are also available.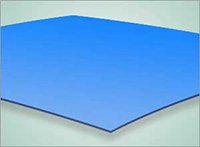 GREENSCAPES™ GS-110 ROOT BARRIER
A .25mm thick, single-ply polyethylene sheet used extensive GreenScapes assembly. GS-110 can also be used in deeper assemblies where no woody species are to be planted.
GREENSCAPES™ GS-120 ROOT BARRIER
A 20-mil (0.50 mm) thick, thermoplastic weldable root barrier liner creating a seamless connection to impede root penetration.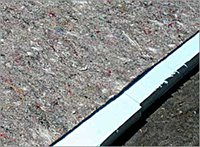 GREENSCAPES™ GS-232 WATER RETENTION MAT
A heavy weight, non-woven geotextile composed of recycled fibers designed help sustain green roof plant life and protect the root barrier from damage.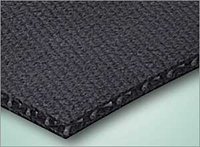 GREENSCAPES™ GS-300 DRAINAGE MAT
A Drainage Composite consists of a polypropylene drainage core of fused, entangled filaments and a non-woven polypropylene filter fabric bonded to the top side. The entangled filaments are molded into a square waffle pattern that maintains this flexible design.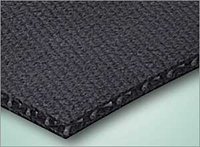 GREENSCAPES™ GS-310 DRAINAGE MAT
A stormwater retention and drainage composite product consisting of a 3-dimensional polystyrene formed dimple core providing compressive strength to support subsequent layers. The formed dimple core retains stormwater but allows excessive stormwater to drain through drainage holes in the top of the drain board.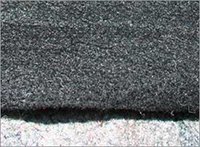 GREENSCAPES™ GS-404 FILTER FABRIC
A non-woven geotextile allowing drainage of stormwater from the growing media to the water management layer. In addition to retaining the fines of the growing media, it provides excellent laminar flow.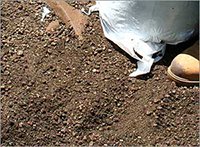 GREENSCAPES™ GS-500 SERIES GROWING MEDIA
GS-500, GS-505, GS-510 are lightweight engineered growing media blends for green roofs. Each consists of a uniform distribution of aggregate grain sizes and organic materials producing consistent color, structure and texture that allows the media to maintain specified aeration, water permeability, erosion resistance and root penetration.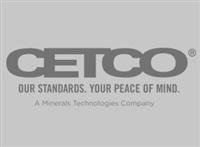 GREENSCAPES™ GS-T TRAYS
A modular green roof is made up of a series of trays, which hold engineered growing media and plants. GS-T Systems can go directly on existing roofs, assuming necessary support exists, without retrofit and the associated costs.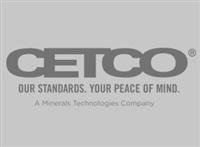 GREENSCAPES™ INSPECTION CHAMBER
Designed to provide accessible covers for roof mounted drains, Inspection Chambers help to prevent debris from entering the drains and cutting off light to prevent the potential for plants to grow into the drains.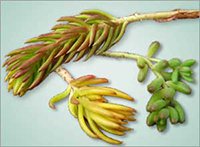 GREENSCAPES™ SEDUM CUTTINGS
GreenScapes Bulk Sedum Cuttings are ½ - 2 ½ inch long spontaneously rooting stems available in a wide variety of sedums suitable for low-cost planting of extensive green roofs, over planting of plug installations, repair of damaged areas and filling in of sparse areas on extensive green roofs.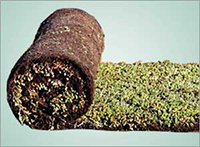 GREENSCAPES™ SEDUM MAT
GreenScapes Sedum mat is a prevegetated sedum carpet consisting of mixed varieties of sedums planted over a coconut coir fiber base covered with approximately one inch of growing media. The sedum mat is planted and field grown to a minimum of 85% coverage prior to being shipped.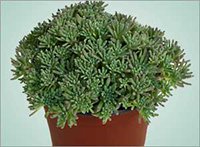 GREENSCAPES™ SEDUM PLUGS
GreenScapes Sedum Plugs offer a wide variety of plants available in two sizes, standard 72-cell trays and custom grown in 24-cell size. Specific selections can be made to suit light to moderate shade, high wind, particularly hot and dry environments and very cold to more moderate growing zones.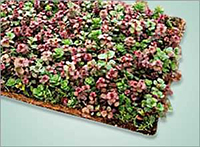 GREENSCAPES™ SEDUM TILE
GreenScapes Sedum Tile consists of a mixture of sedum varieties planted over a thin coconut coir fiber base covered with approximately one inch of growing media. Grown in controlled conditions resulting in a vibrant and beautiful sedum "sod" with a minimum of 95% coverage prior to being shipped.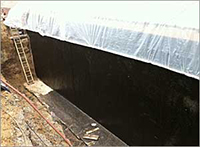 HYDROFIX
A 100% Solids Fluid-Applied, HYDROFIX is a single component waterproofing system. Its fluid application allows it to be installed at difficult areas such as around multiple pipe penetrations and over irregular substrates and cures to form a seamless membrane that is positively bonded to the substrate.
READ MORE l TECHNICAL DATA SHEETS
LDC 60
A elastomeric waterproof membrane, LDC 60 cures to form a seamless barrier that forms tenacious bond to concrete to prevent lateral water migration. The inherent toughness and elasticity of LDC 60 enables it to bridge small structural or shrinkage cracks which may develop in the substrate.
READ MORE l TECHNICAL DATA SHEETS
STRATABOND 100 REINFORCEMENT FABRIC
A 1.5-oz/sq-yd high strength, spun bonded polyester fabric used as a reinforcing layer with STRATASEAL HR hot-applied rubberized asphalt membrane. Stratabond 100 maintains its physical properties when wet and dimensionally stable over varying humidity levels and exhibits high resistance to splitting and cracking from thermal shock.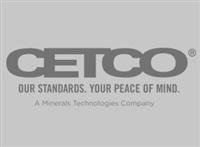 STRATAPRIME SB
A solvent-based, low VOC bituminous roof primer for use with STRATASEAL HR. it is a spray applied primer that improves the bond of the rubberized asphalt membrane to the concrete substrate. as a solvent based primer, it provides faster drying time and ease of application and can be installed in low temperature conditions.
STRATASEAL HR®
A hot-applied rubberized asphalt membrane, STRATASEAL HR is ideal for protected roof and split-slab deck waterproofing applications. Its a 100% solids thermoplastic product that is flexible as well as self-sealing. STRATASEAL HR is ready for use and requires no set-up.
READ MORE l PRODUCT SHEETS l TECHNICAL DATA SHEETS
SWELLTITE®
A highly effective waterproofing membrane, SWELLTITE® consists of a sodium bentonite compound integrally bonded to a geomembrane liner. This composite combines the active waterproofing benefits of sodium bentonite with the strength and durability of a thick geomembrane liner.
READ MORE l PRODUCT SHEETS l TECHNICAL DATA SHEETS
ULTRASEAL®
Consisting of an advanced Active Polyer Core (APC), ULTRASEAL is engineered to provide high-performance waterproofing protection for foundation applications. ULTRASEAL is 10 times less permeable and more chemically resistant than traditional hydrophilic waterproofing membranes.
READ MORE l PRODUCT SHEETS l TECHNICAL DATA SHEETS
ULTRASEAL® XP
Featuring XP technology, the latest innovation in active waterproofing, ULTRASEAL XP provides exceptional performance in a wide range of ground contaminates. Proven effective in both hydrostatic and non-hydrostatic conditions, the self-sealing ability of ULTRASEAL XP seals minor cuts or damage to the membrane.
READ MORE l PRODUCT SHEETS l TECHNICAL DATA SHEETS
VOLTEX®
Voltex® is a proven waterproofing membrane ideal for vertical and horizontal foundation surfaces. Voltex incorporates the high-swelling and self-sealing properties of VOLCLAY® sodium bentonite to form a monolithic, low permeable membrane to protect the structure from water ingress.
READ MORE l PRODUCT SHEETS l TECHNICAL DATA SHEETS
VOLTEX® DS
A bentonite-geotextile waterproofing membrane with Integrated Polyethylene Liner, VOLTEX® DS is comprised of two high strength geotextiles. The two geotextiles are interlocked by a patented needle-punching process which assures a consistent application of material.
READ MORE l PRODUCT SHEETS l TECHNICAL DATA SHEETS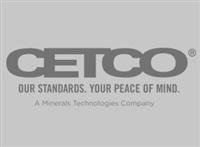 VOLTEX® DSCR
VOLTEX DSCR is a highly effective waterproofing composite of high strength geotextiles,1.10 pounds of contaminant resistant sodium bentonite per square foot, and a integrally bonded polyethylene liner. The high swelling, low permeable, contaminant resistant sodium bentonite is encapsulated between the two geotextiles.
READ MORE l TECHNICAL DATA SHEETS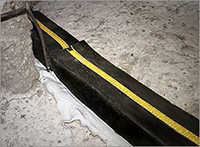 WATERSTOP RX
An active, flexible strip concrete construction joint waterstop, WATERSTOP-RX provides a strong positive seal by expanding upon contact with water. Proven effective on projects worldwide for over 20 years, Waterstop-RX is designed for both continuous and intermittent hydrostatic conditions. WATERSTOP-RX is available in multiple configurations.
READ MORE l PRODUCT SHEETS l TECHNICAL DATA SHEETS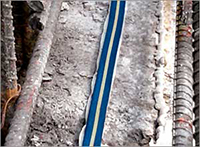 WATERSTOP XP
The next generation of waterstop that expands upon contact with water to form a positive seal to stop water ingress through cast-in-place concrete construction joints and around pipe penetrations. Through the use of the patented XP technology, WATERSTOP® XP is proven effective in a wide range of contaminated environments.
MERCY HOSPITAL PLAZA
St. Louis, MO, USA
To minimize building exposure, poor air quality, and odors, this occupied hospital utilized COREFLEX to waterproof the plaza deck prior to installing a GreenScapes vegetated roof system, hard-scape and water features.
RONALD MCDONALD HOUSE
Chicago, IL, USA
CETCO provided the complete watertight green roof assembly for the nation's largest Ronald McDonald House. Protected by CETCO's COREFLEX® waterproofing membrane, three GreenScapes™ assemblies—intensive, extensive, and vegetated trays—were utilized to meet a challenging landscape design.
SANDPIPER RUN PLAZA RESTORATION
Pawley's Island, SC, USA
This restoration application used an extensive GreenScapes™ system with COREFLEX® waterproofing technology to create an ocean side lawn space for condo occupants. When used in restoration applications, CoreFlex® minimizes demolition, reduces building exposure and limits building down time.