Annealing Control Systems for Rolling Mills
Grain Size and Remanence measuring systems for cold rolling mills
"Online annealing control improves efficiency of continuous annealing lines."
Both systems are powerful tools with the following positive impacts:
Improved quality assurance
Enhanced reliability of production
Energy savings
Reduction of sampling costs
Increased annealing line throughput
Grain size measurement by ultrasound - FWT 25
Measuring principle

Ultrasound signals reflected by metallic material. Under a certain angle a maximum signal is detected (about 31° for stainless steel). The received signal includes information on the grain size which can be compared with a calibration curve. Thus the values of the grain size can be calculated. In case of the used ultrasound frequency of 25 MHz the measuring range is about 8 to 40 mm. Typical accuracy is +/- 2 mm.

Remanence measurement in a continuous annealing line - FWT 100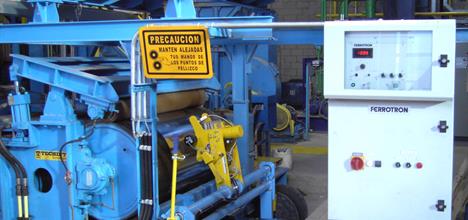 Measuring principle

After being cold-rolled, steel strip is annealed to achieve recrystallization. In case of ferritic stainless steel there is a clear correlation between grain structure, mechanical properties and magnetic behavior. During the annealing process the values of the apparent remanence drop significantly, reaching a minimum value in case of full recrystallization. Overannealing can be observed by increasing values because of the formation of Martensite. The measuring system consists of a magnetizing roller and a field detecting roller which are mounted over strip guiding roll.