Tundish Refractories
Tundish Spray Coating - Ferrocon SGS Series
FERROCON SGS series, sprayable coating material is a proven performer for tundish wear lining. Quick and clean deskulling property is the key success function of Ferrocon SGS series.
The technology for pneumatic placement of insulating refractories has led to the development of the Ferrocon SGS Series Spray Products. This concept has gained worldwide acceptance in many billet, bloom and slab casting facilities as a result of its simple operation.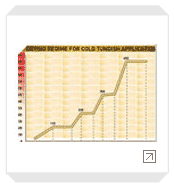 It has led to lower labor costs because of the decrease in installation time. The system occupies less space, thus is applicable for even the most congested tundish assembly areas. Ferrocon SGS can be applied with zero rebound-to any tundish- regardless of geometry.

It can be sprayed on any refractory surface up to 80°C, which enables the steelmaker to utilize residual heat in the tundish helping to cure the lining. Consumption can be optimized by placing less material in low erosion zones.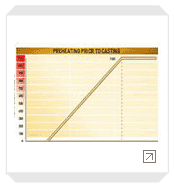 Ferrocon SGS is designed to adhere to the steel skull - not the tundish - which makes skull removal a safe, simple procedure.

Product Range:
Ferrocon SGS LT
Ferrocon SGS 88
Ferrocon SGS 85
Ferrocon SGS 80
Ferrocon SGS 75
Ferrocon SGS 70
Ferrocon SGS 65
Ferrocon SGS 60
Please contact your Asmas Representative for any further information required.
Tundish Boards and Mixes - Ferrocon and FCM Series

FERROCON Tundish Boards are designed and manufactured both in magnesite and silica compositions to match specific steel production needs.

More than 10 million tons of steel per year is continuously being cast through Ferrocon tundish boards.

FERROCON-MgO is engineered to withstand ultralong sequences of high performancemeltshops.

With increasingly sophisticated end use for tundish liner products, Ferrocon MgO performances such as 85 heats of 82 tons ladle lasting 76 hours, 73 heats of 100 tons ladle lasting 63 hours and many other ultralong sequence lengths are achieved with full confidence. Ferrocon MgO is tailor-made with variable thicknesses and densities as well as unique slag line support system according to tundish design and application.

Selected raw material, thorough research, rigid process control result in the consistent quality of Ferrocon MgO tundish boards. With Ferrocon MgO, back-up lining is prolonged and tundish deskulling is an easy and simple procedure.

FERROCON-Silica is engineered in different densities from standard type to the premium MULTIPOUR to completely match the liner to user application.

Carbon and low alloy steels with less than 1.2 % manganese are routinely cast with Ferrocon Silica boards.

Ferrocon Silica offers the most economic solution for low sequence casting, which does not exceed 10 hours.

In addition to the full spectrum of liner boards, FCM series sealing mortar and ramming mixes produced both in silica and magnesite base to match the liner compositions are available to complete the full installation of each tundish lining.

Product Range:
FCM 10 –Silica Ramming mix

FCM 20 – MgO Ramming Mix

FCM 25 – High Purity MgO Ramming Mix

FCM 30 – Alumina Ramming Mix

FCM 50 – Silica Sealing Mortar

FCM 60 – MgO Sealing Mortar

FCM 70 – Al-Si Sealing Mortar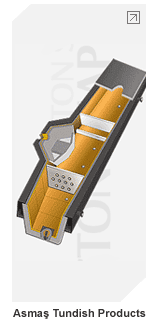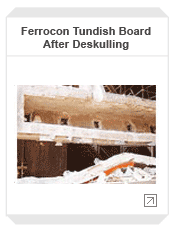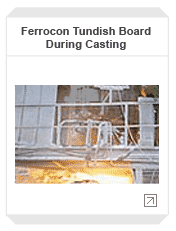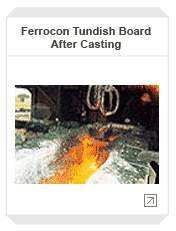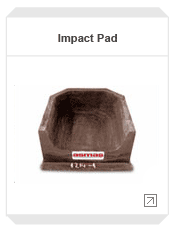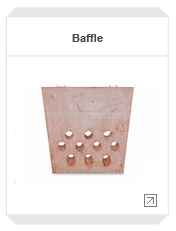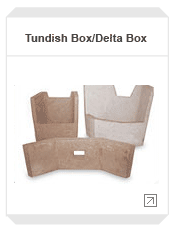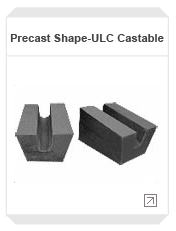 Dry Vibratable Working Lining - Fillmix Series

FILLMIX 85T is a magnesite based moldable water-free mix for tundish coating.

Fillmix 85T is easily filled between the permanent layer of tundish and the steel former.

The former is heated up to 250 oC by a drier unit supplying hot air circulation inside the former for 1 or 1.5 hours, and then removed by crane.

Fillmix 85T is formed at designed thickness. High densityFillmix 85T performs at long sequence lengths more than 24 hours and protects the quality of your steel.

Deskulling is a safe and quick process with Fillmix 85T, reducing downtime and lowering maintenance costs. Fillmix 85T can be used in both cold and hot tundish practices.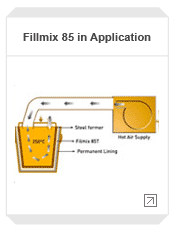 Tundish Castables - Ferrocast Series

FERROCAST Tundish Permanent Lining Package:

Asmas has complete facilities and thorough experience for offering tundish permant lining package. The total package includes Ferrocast castables for permanent lining, insulation lining, anchor bolts, as well as, the necessary equipment and machinery for installation, such as the template, vibrators, and material mixer. Supervision and application can be provided, if it is required.

The Ferrocast tundish package becomes steelmakers' number one choice to install their tundishes at the plant start-up phases. The Ferrocast tundish package is available for single tundish reline to complete tundishes new lining.

FERROCAST is a low cement vibratable castable, uniquely designed for permanent lining of tundishes. Alumina content can be adjustable between 60 to 85 percent to match customer needs. Ferrocast's excellent physical and chemical properties and its resistance to thermal shocks provide a safe and long lasting lining for tundishes.

Tundish Furnitures and Shapes - Caston Series
CASTON tundish shapes are designed in specific shapes and manufactured in magnesite, alumina or alumina spinel qualities according to tundish requirements.

Target boxes, delta box, impact pads, dams, weirs, baffles, nozzle cones, well blocks are manufactured with superior physical and chemical properties for safe casting and clean steel production.

Precast shapes, when combined with Ferrocon wear lining, exhibits an outstanding performance for tundish long sequences and contributes to steel cleanliness for any steel grade production.

Ready to use tundish lids are a new approach to tundish covers with precise production including molding, casting and drying. Durable tundish lids are manufactured to withstand mechanical and thermal stresses during operation,

Please contact Asmas engineers or specialists for investigating suitable design and quality for your applications.